Jesus gasped for air as clouds darkened not only the sky but the hearts and minds of His followers. Blood dripped from His body landing on the ground with a splat. The cross was a bloody mess and it was all to pay the price for my sin and yours.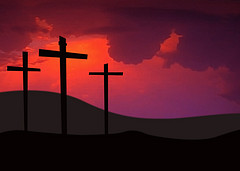 Photo Credit: abcdz2000 via Compfight cc
"And when you were dead in your transgressions and the uncircumcision of your flesh, He made you alive together with Him, having forgiven us all our transgressions, having canceled out the certificate of debt consisting of decrees against us and which was hostile to us; and He has taken in out of the way, having nailed it to the cross." Colossians 2:13-14
My friend, my precious friend, the certificate of debt against you, yes, you, is canceled out. There is nothing hostile to you. It has been taken out of the way. His blood paid the price for your sin.
There is no need to wallow in guilt and shame, locked in a never ending cycle of remorse, regret and recitation of your sins if you have put your faith in Christ.
"There is therefore now no condemnation for those who are in Christ Jesus." Romans 8:1
Do you struggle with shame and guilt as I did for too many years? That only makes a mockery of His death.
Have you shopped at Sam's Club or Costco?  If so then you know once you pay for your products you are stopped at the exit where your receipt is taken and checked against the items in your cart.
What would you do if they kept your receipt and told you to go back through and repay for your groceries?
I'm a pretty mild mannered person, but I can tell you what I would do.  I would grab my receipt, shouting, "Who is your supervisor?  I have no intentions of re-paying for these items!"
No one in their right mind would re-pay for something they had already paid for.

Girl, it is time you and I get in our right mind when it comes to sin!
Jesus has paid our debt in full and the next time the enemy taunts you with your abortion, your divorce, your adultery, your anger, your immorality, your alcoholism it is time to stand up and say, "My debt has been paid in full by Jesus Christ, I have the receipt in His blood to prove it and I have no intentions of re-paying for my sins day after day!"
Because of grace, you and I have no debt of sin to pay, no work to do to please Him. We have nothing to prove to Him. He proved it all for us on the cross.
"For by grace you have been saved through faith; and that not of yourselves, it is the gift of God; not as a result of works, that no one should boast." Ephesians 2:8-9

Today remember His death on the cross was for you. Realize that the mess of His blood covered the mess of your sin. Because of His cross, His blood and His death and most assuredly His resurrection, you are redeemed and forgiven, simply by believing He died for you and rose again from the dead!
Perhaps this song will help you remember what His death purchased for you: I Am Redeemed by Big Daddy Weave